This is the final post in a three-part series about assembling your customer feedback stack so that you can take action faster and more effectively than ever before. In case you missed it, catch up on part I here and part II here .
You've unified all of your solicited and organic customer feedback — you've layered on CRM profile data to organize it by key customer attributes, and leveraged natural language understanding ("NLU") to organize it by the topics and sentiment driving your customer experience at scale. You're now working with a clean, enriched, interpretable data set and can easily observe and substantiate trends. In assembling your customer feedback stack, the next step is getting your clean, contextualized customer feedback where it needs to go to improve customer experience. Step three is activating your customer feedback.
Step 3: Activate Your Customer Feedback
An Oracle study found that only 32% of CX professionals feel they have access to the information they need to understand and improve their customer experience. For too long, customer feedback has been cast aside onto the "too-hard" pile. Even the most brilliant CX insights often end up in a permanent backlog if it's too difficult for the relevant stakeholder to take action.
Right Insight, Right Stakeholder, Right Time
For better, faster, more customer-centric decision-making, customer feedback stakeholders need access to the right insights at the right time. We define customer feedback stakeholders as members of your organization that need reliable insight into your customer experience to improve their contribution. The question is, who are these stakeholders, and how does the feedback reach them? This is a trick question because everyone in your organization should be a customer feedback stakeholder. But Rome wasn't built in a day.
Depending on your organization's dynamics, your most immediate customer feedback stakeholders likely include your customer-facing teams like Customer Support and Customer Success, Roadmap teams like Product, Engineering, and Marketing, and your Executive team. Escalating issues need attention from Support leadership. Customer Success needs to know when customers are experiencing repeat issues, and Engineering needs to know the moment that something breaks before it affects many customers.
Leveraging integrations that push summary insights directly into systems of record can be an effective way to lower the bar for cross-functional stakeholders to activate customer feedback. Ideally, integrations negate teams' need to navigate different tools or sink hours every week into manual cross-team coordination efforts. Manual cross-team communication risks that too much time passes between issues surfacing and prioritizing resolutions. For example, in a survey earlier this year, we found that it can take 90 days for information from customers to impact CX and 180 days to influence the product roadmap.
But integrations aren't created equal. The simple awareness of a support case's existence in another tool is information, not insight, because the why is critically missing. A simple password troubleshoot probably doesn't need cross-functional attention. However, a Customer Success Manager needs to know about worsening issues, the impact on that customer's value realization, and the impact of the problem on overall sentiment. A Product Manager needs to know which functionality the issue stems from, the affected customer's persona and use case, and the impact of the problem on product sentiment. Impactful CX integrations service clear use cases and deliver sufficient context that clarifies when and why stakeholders need to take action. They require intelligent infrastructure to cut through the noise and provide digestible, relevant insight instead of information overload that lacks context.
Let's examine a single customer interaction for illustration. In the example below, the customer is upset about ongoing manual effort stemming from a malfunctioning and long-awaited API. Many organizations use integrations to simply mirror the number of open cases at a given time in other systems. Support may be the only team with the ability to see the full story. NLU can identify the most critical parts of this interaction and deliver related insights to accountable teams. Here, Support is immediately aware of a repeat problem and can escalate the issue for more resources and notify the Success team. Success is alerted to relationship risk and can intervene by suggesting an attractive path forward. Product knows which component of their offering is causing low sentiment and can prioritize ways to alleviate manual effort on behalf of the customer. Connecting your unified, contextualized customer feedback directly to your stakeholders' systems of record completes your stack.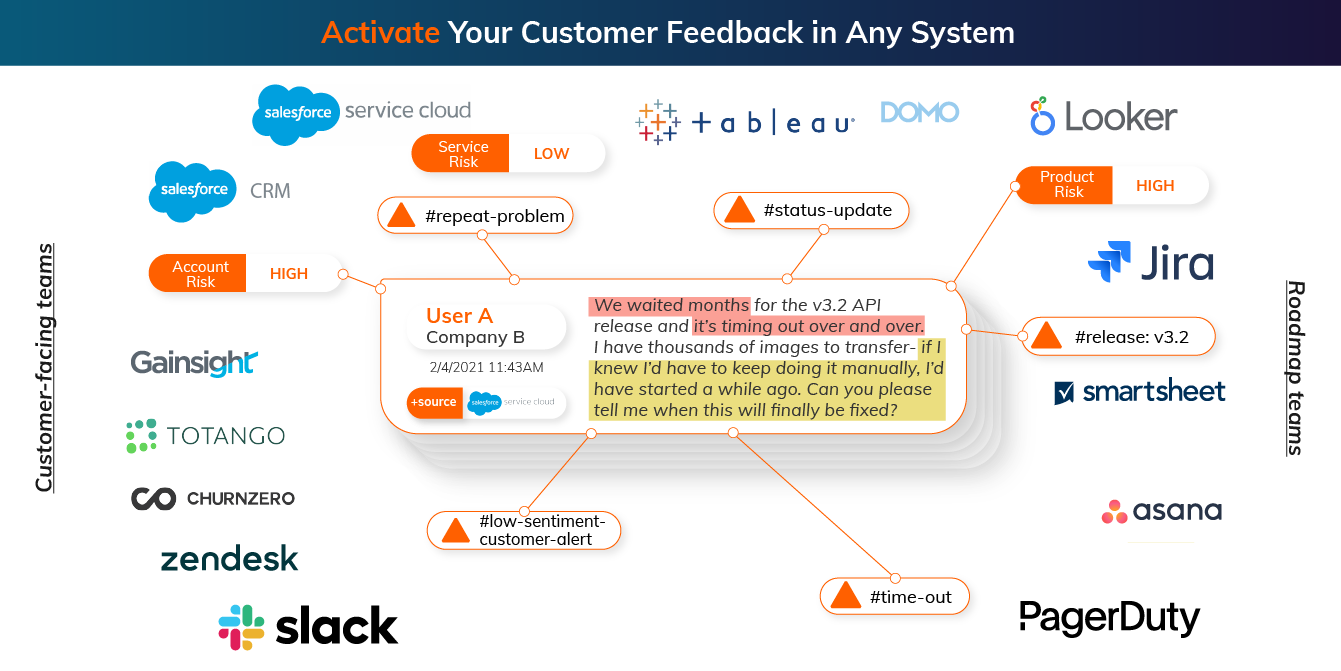 Connect the Dots: Bringing the Customer Feedback Stack Together
The above instance highlights some examples of the feedback your cross-functional CX stakeholders need from customer interactions. However, it's critical to account for the number of customers any issue affects, the amount of revenue is at stake, and the impact on customer sentiment. So let's take a look at how this looks in practice. Building on this example, consider that the malfunctioning API release v3.2 affects 187 customers representing an aggregate of $5.1 million in annual recurring revenue. Across customers who are affected by this issue, the average satisfaction score is a low 36.
CX-focused companies need intelligent infrastructure that summarizes this information and makes it accessible and actionable. If your Product team works in Jira, an automated report describing the issue's impact on sentiment across your customer base tells a compelling story that is easy to evaluate vs. other priorities with similar detail. If a Customer Success Manager receives an alert in Slack that a customer is frustrated with repeat issues, they can proactively orchestrate the right resources and mitigate relationship risk. Delivering automated account health reports to systems like Salesforce ensures that every account is populated with concrete details about current sentiment and effort scores reflecting all feedback from every account, regardless of whether users have responded to a survey.
Whether you use a home-grown approach or a CX Ops platform that turns customer feedback into action, connecting the dots between unified, contextualized feedback and the systems your teams use results in 84% more customer feedback activated, faster.