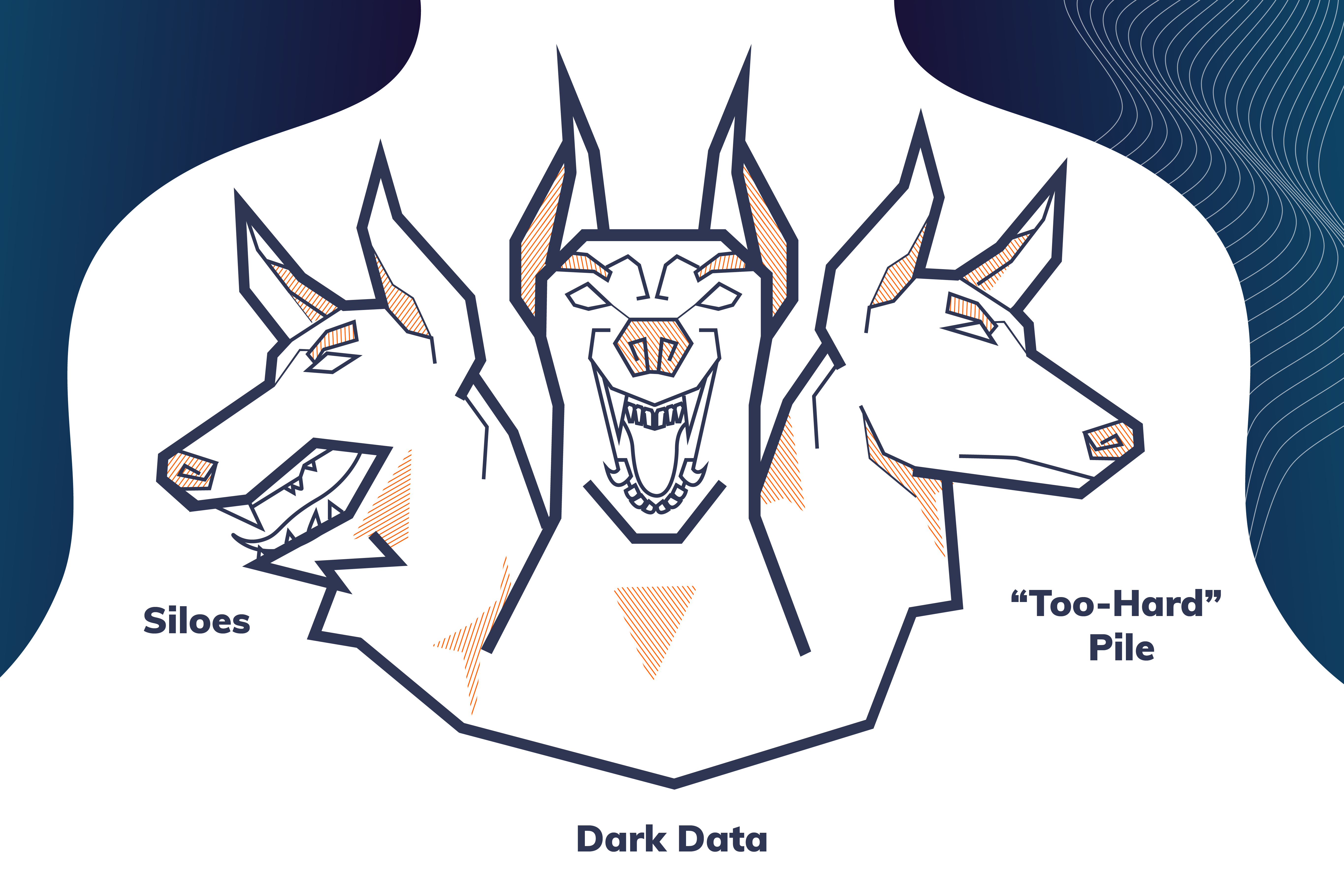 The three-headed CX monster plagues CX leaders with three core problems — siloes, dark data, and the "too-hard" pile. According to Deloitte, customer feedback, both organic and unsolicited, is often spread across as many as 23 different channels, leading to a siloed view of your customer experience. Dark data is typically unstructured data that is impossible to understand without a significant data science effort or tons of manual analysis, which often happens late or never. Unfortunately, this is the common fate of 90% of your customer feedback. Because of siloes and dark data, some of the most brilliant CX insights are cast aside onto the "too-hard" pile. If it's too complicated for any stakeholder to understand the impact of customer feedback and to execute on it, it stays stranded on the "too-hard" pile. Most customer feedback has a short time window to make an impact on any given customer's experience — allowing it to linger here translates to failure to act, and failing to act in a timely fashion opens the floodgates to unfortunate consequences, from churn to a tarnished reputation. So what is a CX team to do? Connecting the dots across your customer feedback stack eliminates these problems. If your business communicates with customers and uses tools to identify and manage priorities, you already have a customer feedback stack — it's just a matter of pulling the puzzle pieces together. Your customer feedback stack consists of all of the channels where you're getting customer feedback and the systems that feedback needs to inform to improve customer experience. Below we summarize the three steps to tackling the three-headed CX monster to put you in full command of your customer experience.
1. Break Down Siloes and Unify Customer Feedback Into a Single Hub
A siloed view of your customer experience can allow serious issues to persist unchecked and mislead prioritization decisions. Nearly a third of CX practitioners cited siloed customer data as a key obstacle to improving customer experience (CXN Global State of CX 2020). In fact, 67% of CX leaders cannot measure the efficacy of their actions because feedback is scattered across so many different channels. Furthermore, a McKinsey study cautioned that individual touchpoints could perform well, even if the overall customer experience is sub-par.
Step 1 is unifying your customer feedback into a single hub. A unified customer feedback hub brings together all of your solicited and organic feedback so that you can analyze it holistically. Solicited feedback represents the feedback that you explicitly ask for in surveys and is often structured. Organic feedback is unstructured and represents what customers tell you in the channels where they choose to communicate with you, including support tickets, web chat, call center, and emails, as well as commentary in your community forums, on social media, and product reviews.
There are several good reasons that CX teams are already trying to unify their customer feedback — it allows them to:
Save several days every month cross-referencing feedback sources to support survey results or anecdotal observations with complete data and rich verbatims
Standardize key metrics across all customer-facing channels, from satisfaction to customer effort and response times
Spend more time evaluating and activating feedback instead of collecting data
However, in lieu of dedicated data science expertise, many CX teams rely on manual approaches to unifying customer feedback, which fails to unlock the benefits described above. Leveraging automation and intelligent infrastructure in pursuit of a unified customer feedback hub eliminates manual effort and the burden on internal data science resources.
A unified customer feedback hub means that all of your customer feedback, organic and solicited, is normalized into a consistent and searchable format without needing to take extra steps. As a result, you can see all feedback from any given customer or group of customers about any issue, regardless of the channel where it surfaced.
For more on this step, check out The Customer Feedback Stack, part I .
2. Illuminate Dark Data With Context To Highlight What Moves the Needle
CX leaders work relentlessly to discover what moves the needle, both for customer relationships and their operations and performance. They are constantly answering questions like, " Why does the customer want this? Why do we need to prioritize this over that? What happens if we do nothing? " Illuminating your otherwise dark customer feedback by making it easier to analyze will give you the most complete, reliable answers to these questions.
In a 2018 study by Econsultancy and Adobe, 65% of companies reported that improving their data analysis is key to delivering a better customer experience.In step 2 of assembling your customer feedback stack, we bring your dark data to life to understand the impact of feedback on your customer experience.
Enriching feedback with context makes it significantly easier to analyze, prioritize, and, most importantly, activate. There are two critical types of context needed to measure the impact of customer feedback — the impact on your customers and the impact on your business. Natural Language Understanding ("NLU") technology illustrates the impact of feedback on your customer relationships by automatically labeling themes and sentiment. More specifically, across the volume of feedback raised by your customers, NLU helps you extract signals from noise, enabling you to plot feedback on a spectrum of mission-critical to "nice-to-have." You may have roughly equal interaction volume related to two of your product offerings, but one might have distinctly better or worse sentiment attached that needs your attention. Of all of the features your customers ask for, a handful of them will likely have the most direct impact on customer outcomes. By attaching sentiment to themes, it's easy to see what makes and breaks different parts of your customer experience.
Additionally, by giving you the ability to understand how many customers an issue affects and how much revenue they represent, layering CRM data across your unified customer feedback hub helps clarify the impact of feedback on your business. It's essential to look at both dimensions — if you weight your decisions by revenue only, you may over-index on large, strategic customers representing edge cases. Furthermore, you may be able to stave off a panic if negative sentiment is persisting across a particular customer segment, but you can then see that they are in an early stage of onboarding, and the topic they are reacting to is a simple misunderstanding and an easy fix.
NLU and CRM data are your best tools for illuminating dark data and measuring the impact of feedback on your customer experience. Confidently identifying your next best set of actions and supporting them with data means that your customer feedback is no longer dark.
For more on this step, check out The Customer Feedback Stack, part II .
3. Topple Your "Too-Hard" Pile by Making It Easter To Activate Your Customer Feedback
Step 3 is activating your customer feedback. If customer insights are too difficult to activate, they will expire on the "too-hard" pile with no chance to impact CX. For example, a Customer Success Manager managing dozens of accounts might have a tough time advocating for any one customer if she can't say that 12 other customers will benefit from the same action. A Product Manager that can't tell the difference between a "nice-to-have" and a mission-critical ask is likely to defer to the existing roadmap. The Finance team is unlikely to budge on a frustrating policy if you can't articulate the impact on your customer relationships.
Leveraging integrations that push summary insights about customer feedback directly into different systems of record is one way to make it easier for cross-functional teams to activate feedback. However, despite the hundreds of integrations available to CX teams today, the "too-hard" pile is only growing larger. As the "too-hard" pile grows, the distance between feedback surfacing and feedback activation grows too. In a survey we conducted earlier this year, we found that it can take 90 days for information from customers to impact CX and 180 days to influence the product roadmap.
Integrations aren't created equal. Noting the volume of support cases for a given customer in another tool is information, not insight, because there's often no context about what those cases are about —in other words, that data is still dark. The best CX integrations deliver digestible insight with context that spells out when and why stakeholders need to take action. Below is an example of how a single customer interaction would feed actionable insight to other stakeholders. Here, a customer is frustrated by a broken API that is causing manual effort. With intelligent integration, Support is aware of a repeat problem, Success is alerted to relationship risk, Product knows which part of their offering is causing negative sentiment, and every function can use this insight to identify their next best action.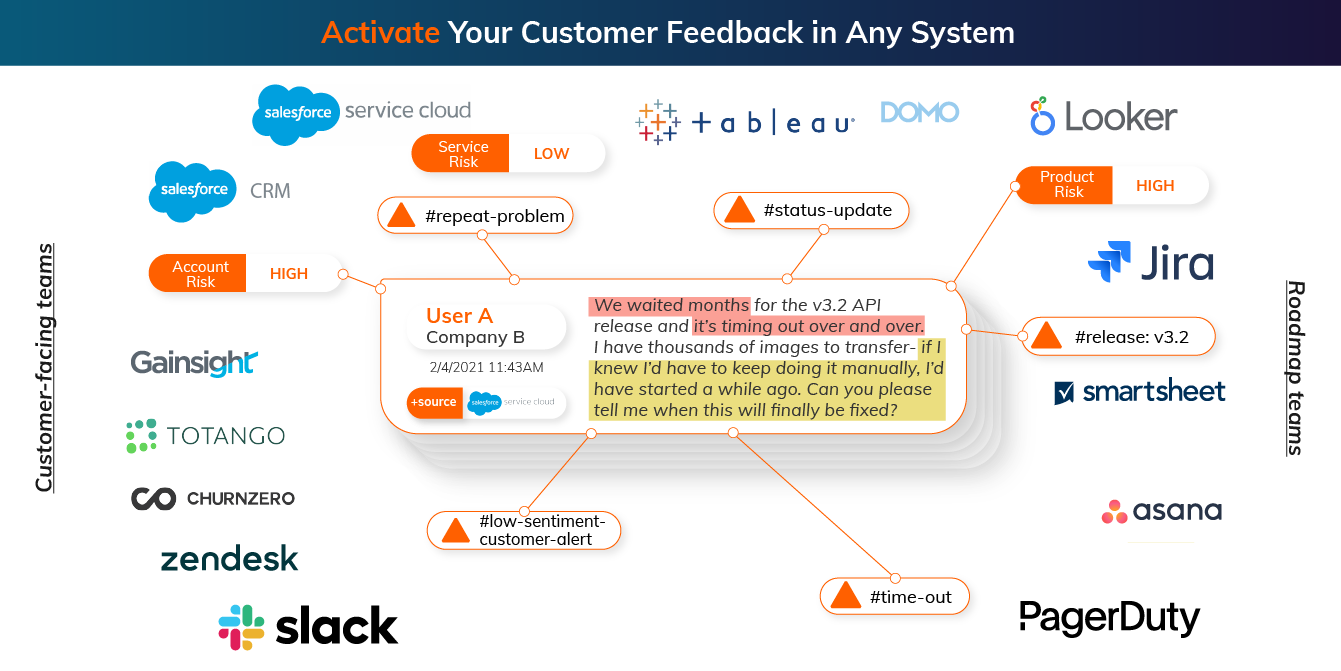 For examples of how this works in practice, check out The Customer Feeback Stack: Part III .