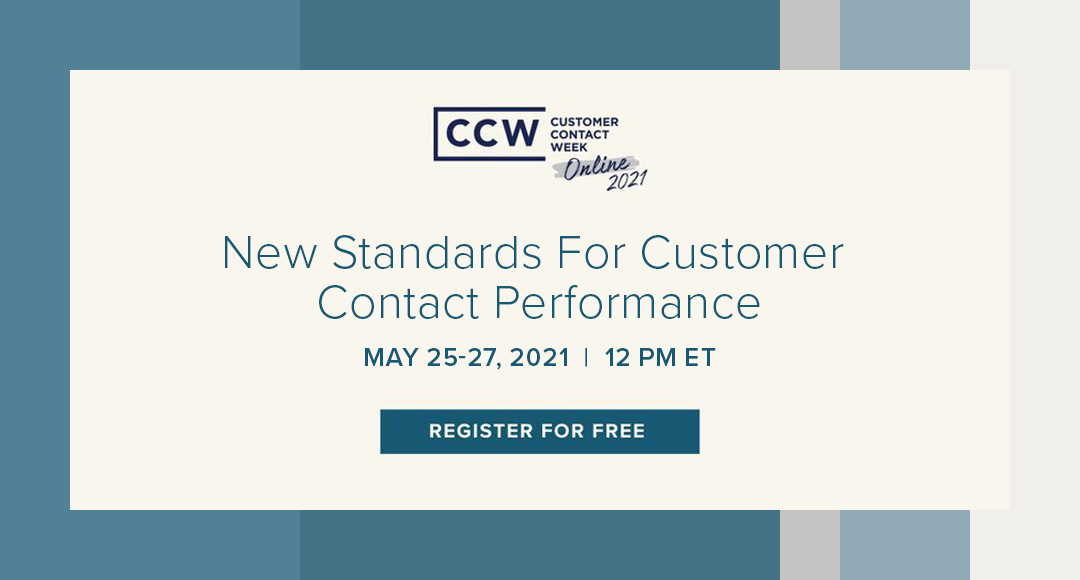 This week, we're excited to sponsor Customer Contact Week's New Standards for Customer Contact Performance, starting Tuesday, May 25th through Thursday, May 27th. 81% of companies are competing on customer experience, which means that the contact center is no longer a cost center. The best-performing CX organizations treat customer contact as a P&L center, integrating AI and data analytics to increase customer satisfaction and reduce effort for customers and agents.
This event will explore the new contact center performance landscape, identifying how to measure, monitor, and facilitate winning customer experiences. CCW has assembled an incredible session line-up, and we're thrilled to help drive a critical conversation about arming contact centers with resources commensurate with their starring role in the customer experience. Here are a few of the sessions we can't wait for — join us!
Executive Roundtable: What Changing Customer & Agent Demands Mean For Contact Center Performance Featuring Brian Cantor, Principal Analyst at CCW, Ethan Barhydt, CEO, VoiceOps, Jenna Muñoz, Senior Product Manager of Risk Solutions, Neustar, and Christine Moulton, Sales Manager North America, USU (Tuesday, 5/25 at 1:30pm)
Customers demand that issues are resolved thoughtfully and thoroughly and fast, with minimal effort on their part. Customers also demand that you listen to their feedback and take action. To keep pace with these expectations, agents demand more consistent, actionable feedback and better technology to help them succeed in delivering excellent customer experience. Growing demands on both sides mean that contact centers need to reimagine CX measurement with more meaningful, dynamic KPIs with sufficient detail and consistency to motivate action.
Best-In-Class CX: Engaging Customer Support Representatives To Exceed Expectations with Jason Stout, VP, Contact Center Channel Manager, Vast Bank (Tuesday 5/25 at 2:30pm)
Customer Support is one of the most important roles in any organization —unfortunately, it's also one of the most challenging and least supported roles. Offering Customer Support Representatives strong leadership, a supportive culture, coaching, and technology to help them succeed is one of the most powerful things you can do to improve your customer experience. After all, your CSRs _are _ your front-line customer experience!
How to Achieve Effortlessness in Your CX Strategy with Chanel Phillips, Customer Care and Sales Program Manager, MSC Industrial Supply (Thursday, 5/27 at 1:30pm)
To minimize customer effort, CX teams need to understand what's driving effort and why . A customer-centric approach to understanding customer effort considers the signals that customers use to express effort, such as timing, repeat issue references, and the language they use to describe the impact of issues on usability. When you understand what's driving customer and team effort, you can incorporate relevant signals into your prioritization framework, empowering your team to proactively identify and remove friction from your CX.
Don't miss it! Looking forward to seeing you there!