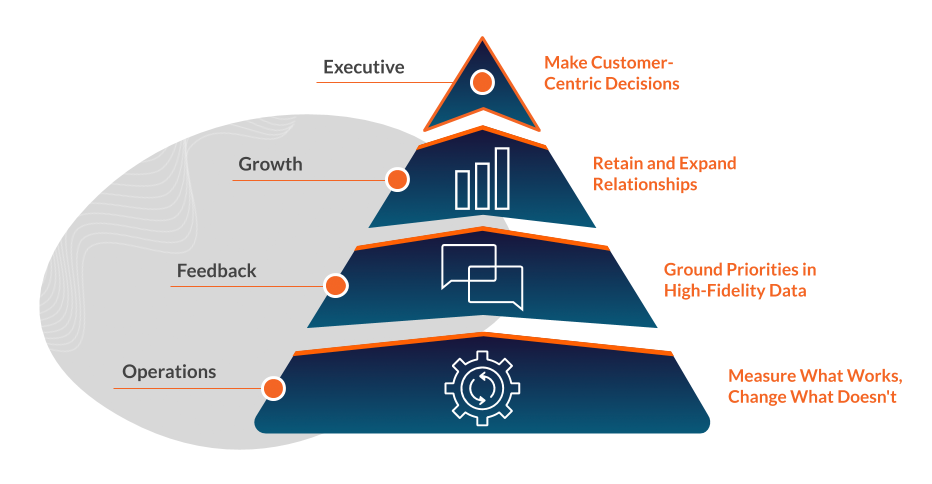 You'd be hard pressed to find an executive at any company billing itself as customer-centric who will say that listening to customer feedback isn't important. So it's quite possible that a customer experience program has been on your mind for some time, but it's also quite possible that your version still exists as a quarterly survey program, or maybe as an aspirational bullet point in an internal strategy deck. Unfortunately, CX initiatives have long been easy to cast aside in favor of priorities perceived as lower effort and higher impact. But CX programs have come a long way — it's never been more important to have a sound strategy in place, nor has it ever been more achievable to drive and measure positive outcomes for your customers and your organization. Best-in-class CX organizations are trading old-school CX programs for CX Ops, a new-action-oriented approach that unifies customer feedback and measures every interaction from every channel to help CX teams turn insight into action.
In the average SaaS organization, customer feedback comes from many different places. According to Deloitte, enterprise organizations report an average of 28 different data sources and 17 applications that leverage that data .
Your collective customer feedback comprises of solicited feedback like surveys, which is structured data, and organic, or unsolicited feedback, which is unstructured. Organic feedback comes from support tickets, webchat, your call center, and customer emails, as well as reviews of your product and business in community forums and on social media channels. Your feedback is also likely from a mix of customers with different contract sizes and different relationship dynamics with your business. Additionally, you may have multiple customer-facing teams who share responsibility for outcomes, from Customer Success to Customer Support to Technical Account Management and Professional Services, synthesizing feedback. Given the many moving pieces, it's perilously easy to lose track of what's moving the needle on your CX, especially if surveys are your source of truth.
20 Reasons to Prioritize CX Ops
CX Ops reduces costs and increases every team's contribution to business growth in the delivery of industry-leading customer experience. When Operations teams run more intelligently and efficiently, they generate better data that drives better prioritization decisions across Feedback teams, resulting in Growth teams that see less churn and stronger customer relationships. Here's how CX Ops benefits your entire organization, beginning with better Operations.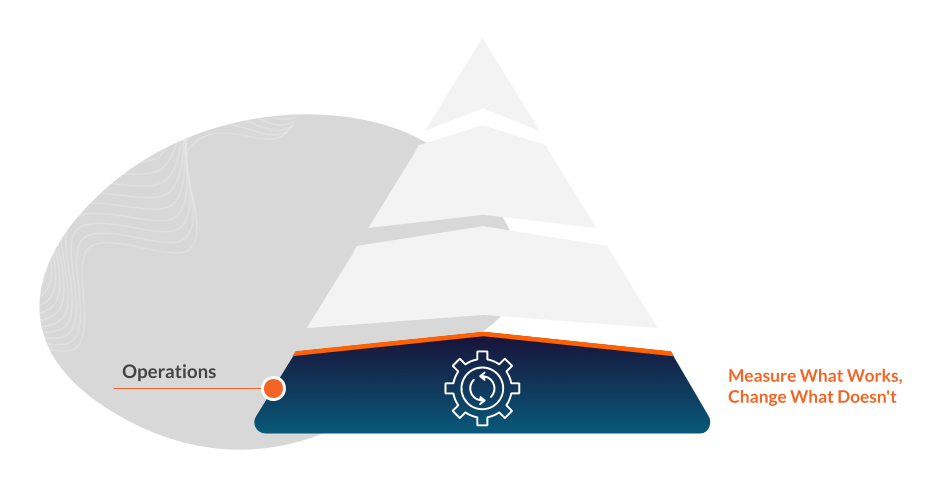 Operations: Measure What Works, Change What Doesn't
Customer Support, Customer Experience, Customer Operations
Operations includes Customer Support teams that are directly responsible for fielding support requests, and Customer Experience teams that are responsible for orchestration and measurement across your collective customer touchpoints. CX Ops can identify gaps in processes, make Support a more efficient net contributor to your CX, and uncover opportunities to capture more value from existing customers.
Reduce Costs
**Prioritize effectively:** Not all support conversations are equally consequential. In the moment, leveraging AI-based escalation triggers can immediately direct your attention to urgent conversations. Over the longer term, contextualizing support interactions with CRM and account health data ensures that "squeaky wheels" don't command an undue share of resources.
**Find opportunities for deflection and automation:** Listening to what frustrates customers provides ample opportunities for ticket deflection and customer marketing. Improving parts of your product that cause customers to submit tickets may reduce associated inbound volume, better equipping your team to tackle the inevitable, less predictable tickets.
**Measure the efficacy of current processes:** What can you change to remove friction from your customer experience? How satisfied are your customers with their support experience and why? These questions can be answered with CX Ops.
Grow Business
**Rapidly discover positive CX drivers:** Rather than wait for surveys and anecdotes to suggest what's working well, discover quick wins and maximize their impact. The sooner you know what the wins are, the faster you can leverage them to benefit more of your customer relationships, and attract new ones.
**Rapidly discover negative CX drivers:** Identify and escalate themes driving lower quality experiences before they become widespread problems, so you can minimize their impact and course-correct quickly.
**Identify high-value follow-ups:** Because Operations teams spend the most amount of time talking directly to customers, they are primed for discovering high-value opportunities. The ability to seamlessly share these observations with Feedback and Growth teams enables Operations to create valuable connections between customers and internal stakeholders.

Feedback: Ground Priorities in High-Fidelity Data
Product, Engineering, Marketing
While Feedback teams are often removed from front-line interactions with customers, they make decisions that impact the customer experience daily. It's critical for them to be well-versed in customer feedback, and to use insight generated by CX Ops.
Reduce Costs
**Lower cost of userresearch:** Leveraging AI for collation and analysis drastically reduces the cost of data gathering. Instead of designing and launching a survey, and collecting and analyzing results, analysts can go directly to a single source of truth and pull quantitative and qualitative data, grounded in objective customer feedback, that can be easily tailored for individual and team objectives.
**Self-service data:** With a single source of truth accessible to all CX stakeholders, Feedback teams can perform their own analyses, without the need to wrangle support from internal data resources.
Grow Business
**Identify opportunities:** CX Ops highlights what's working well, so you know where your best opportunities are. Product teams can learn what resonates with customers and build more of it into the roadmap.
**Easily identify and attract advocates:** Marketing teams can identify promoters and advocates for case studies, beta tests and advisory boards. With a direct line to customer feedback, Marketing can also learn more about their target market, and speak more authentically to high-value prospects.

Growth: Retain and Expand Relationships
Customer Success, Account Management, Sales
CX Ops gives Growth teams exponentially more eyes and ears so they can positively impact the experience of more customers. Knowing instantly when customers are unhappy, continually frustrated or primed for an upsell, can help Growth teams succeed.
Reduce Costs
**Cost-effective long tailcoverage:** CX Ops empowers Customer Success Managers to efficiently and proactively manage more customer relationships at once, especially across the long tail.
**Targeted enablement:** Targeted training and education offerings, informed by CX Ops, can avoid costly misunderstandings and relationship tension.
**Avoid bad deals:** Considering feedback from past unsuccessful customers can prevent signing customers who are not the right fit.
Grow Business
**Deepen relationships:** CX Ops enables your customer feedback to act as a real-time alert system. Using technology to listen deeply across all channels, CSMs can build stronger relationships with customers and act quickly with context when issues inevitably arise.
**Higher return on customer marketing:** When you know exactly what your customers need and when, you can personalize your communications to be more effective.
**Focus on activities that add customer value:** Rather than asking customers to complete surveys, or sending another "just checking in!" email, CX Ops helps color the full picture of the customer relationship at any given time, allowing your team to focus on activities that add material value to the relationship.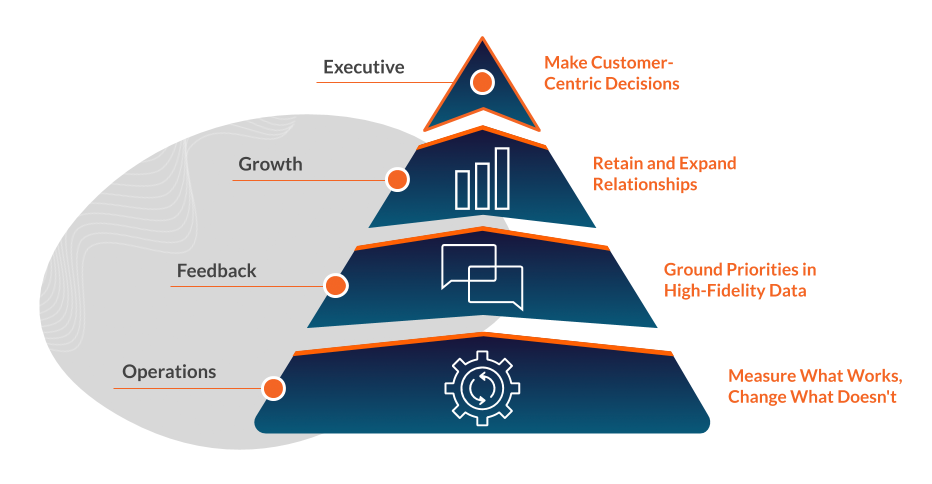 Executive: Make Customer-Centric Decisions
C-Suite and Board of Directors
Executives bear the weight of steering the entire organization in the right direction. Bringing Ops-driven CX insight to strategic decisions can be incredibly impactful in terms of cost reduction and business growth.
Reduce Costs
**Reduce execution risk:** CX Ops wards off analysis paralysis, and can help executives make strategic decisions with confidence. When you can back decision-making with an on-demand synthesis of your customer feedback from every interaction, making fast decisions has a lower risk attached. This means you make the right decision far more often.
**Cost-effectively compete on CX:** More than two-thirds of companies compete on CX. With the right approach, competitive CX doesn't have to be capital intensive — CX Ops allows you to anticipate customer needs _before_ they become gaps in your offering and prioritize effectively, maximizing your return on your investment in CX.
Grow Business
**Improve executive sponsorship:** CX Ops enables richer, more frequent reporting that is far easier to produce than what's traditionally been possible. This empowers executive sponsorship across more customer relationships, resulting in longer, more mutually beneficial relationships with high-value customers.
**Greater organizational alignment:** Customer feedback becomes the common denominator across all organizational priorities. When all cross-functional teams share empathy for customer feedback, all of the teams in your organization row in the same direction.
From your top line to your bottom line, from your Support team to your Success team, your Executive team to your Product team, and everything in between, CX Ops will benefit your customer relationships, and your entire organization. Frame AI is the engine powering CX Ops for measurably better CX. Get in touch with our team to learn more.