The emergence of customer experience (CX) as a primary differentiator has turned up the volume on Voice of Customer (VoC) programs. When 84% of customers say that experience is just as important as products and services, the pressure is on for organizations (especially those dependent on recurring revenue) to listen to their customer voice. Without incorporating VoC insights into the product, organizations lose touch of what their customers need.
But while VoC data is very important for Product teams to make smart decisions, it's not always easy to get. Nor is it always easy to make sense of.
Using productboard bridges the gap between raw customer feedback and product priorities. When there's a high volume of VoC data coming through the firehose, Product teams need to be able to categorize and act on insights swiftly. This is where Frame AI can help. Frame AI's intelligence engine upgrades customer feedback data into the quantitative insights that Product teams crave.
With the launch of productboard's Notes API, Frame AI and productboard are making the customer voice actionable for Product teams.
How productboard works with Frame AI
productboard is a customer-driven product management system that empowers Product teams to get the right products to market, faster. With productboard, teams can gather feedback across all of the channels their customers use.
With our new integration, productboard and Frame AI customers can automatically identify, quantify, and integrate customer feedback right into the product workflow. Frame AI-generated insights are now directly delivered into Notes, using productboard's brand new Notes API.
This integration saves Product teams the costly, but critical, first step of unifying and analyzing raw customer feedback. With Frame AI, feedback notes arrive in productboard already cleaned and categorized.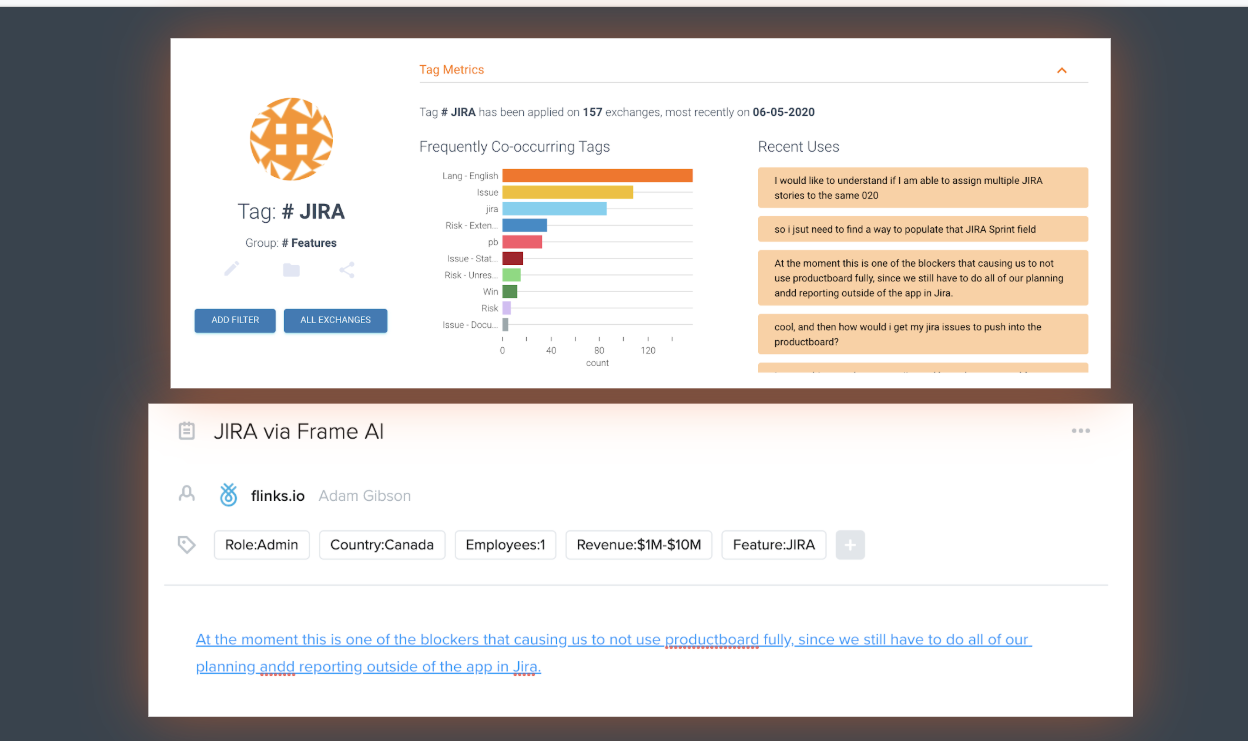 Faster access to clean feedback notes helps product managers spend more time on their real work: synthesizing and prioritizing.
With Frame AI integrated, project managers can skip straight to acting on insights translated directly from VoC data - no manual data wrangling required.
How Frame AI integrates with productboard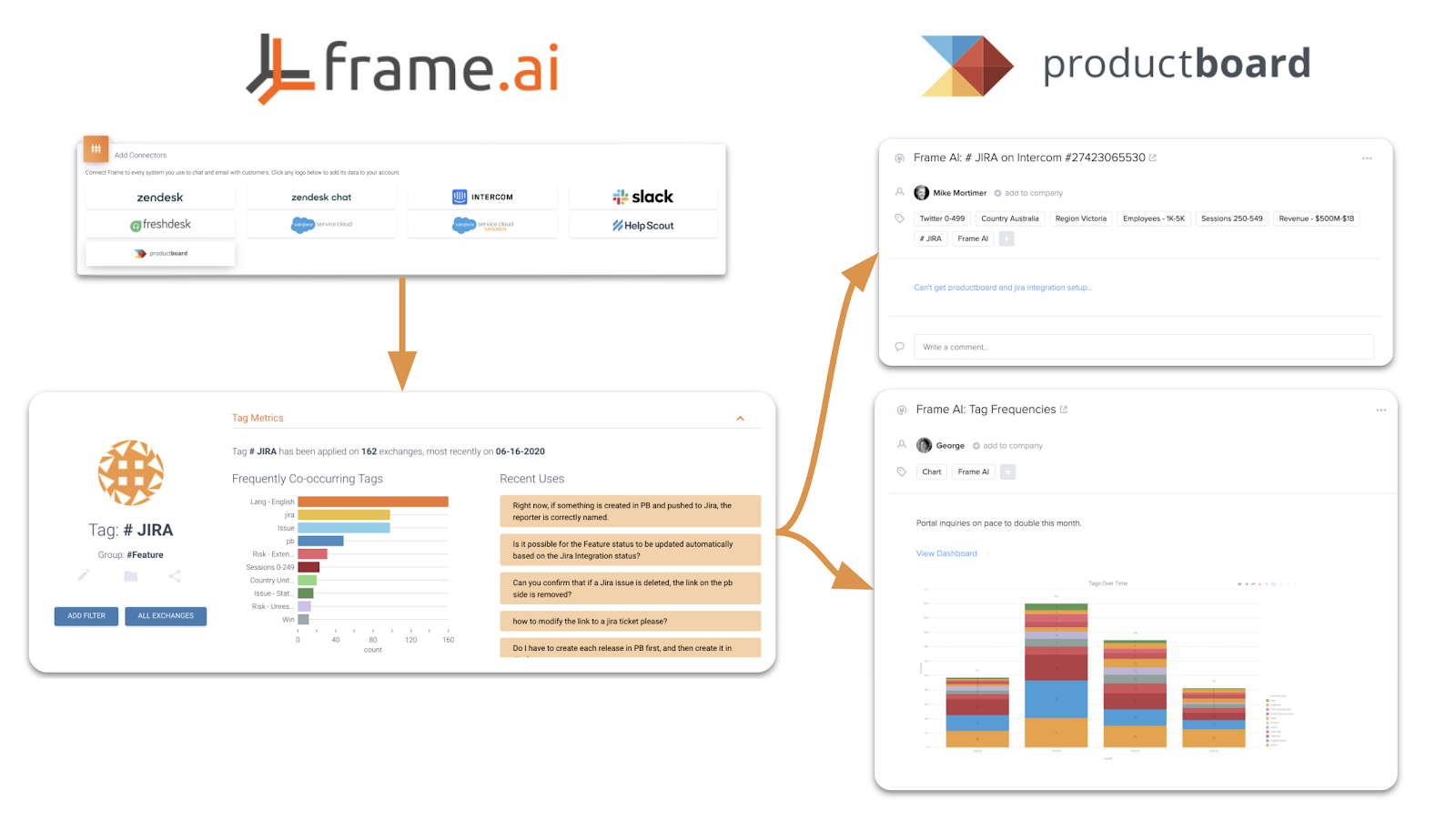 Once Frame AI is connected to customer feedback channels (including helpdesks, forums, and survey tools), it begins automatically indexing comments. Frame AI's auto-tagging system can identify and categorize feedback comments into particular feedback areas. Our integration then uses productboard's public API to automatically create notes tied to specific feature areas based on support conversations. These notes feature customer verbatims alongside tags indicating topic, sentiment and other customer data available through the feedback channel.
1+1 = 3: Adding Frame AI to productboard equals VoC superpowers
Connecting these two powerful platforms powers your VoC data by putting data directly where it's needed, in a helpful format. This integration helps you get more out of the CX tools you've already invested in, like Zendesk, Intercom, Slack and other source systems.
Product teams can identify trends from customers and incorporate feedback on existing features into their planning process. Customer-facing teams can close the feedback loop more effectively with no need for manual data entry.
Together, Frame AI and productboard move your organization closer to delivering on the vision of customer centricity.
Starting with the Frame AI <> productboard integration is simple:
In Frame AI, go to Admin > Connectors and click the productboard logo. We'll ask for your productboard API token, which you can get by following these instructions.
Your Frame AI Success Manager can help you deploy the auto-tagging models that will detect and categorize your customers' product feedback.
Once configured, comments will be automatically pushed to productboard as Notes. You will also be able to share graphs and tables as visually rich productboard Notes by clicking the

icon.